"I know you don't like to lean on anyone ーSo, stand by me instead dear"
hes so cute....... i love h
二階堂大和くんの笑顔その守りたい ♡
Alias. Natsushi (nicknames ok!!)

Pronouns. She / They

Age. 18↑ / 25↓ (Dec. 11)

Ethnicity. South-Eastern Asian (Cambodian)

Graphic designer, website designer, video editor, and amature translator, but I mainly just scream into the void

im a nice person i just [looks at tweets] yeah that's just stress relief don't worry about it
| | |
| --- | --- |
| ♯ | English & ខ្មែរ OK / 日本語勉強中 (๑•̀ㅂ•́)و✧ |
| Games | Friend Codes |
| --- | --- |
| IDOLiSH7 (JP) | 377263069 |
| Genshin (NA) | 619138427 |
attended.
11.7.2020 - after the rain 2020 online live

12.30.2020 - amatsuki's one-man live "resfeber"

5.5.2021 - super mafumafu world 2021 @ tokyo dome online

8.1.2021 - world domination ii @ tokyo dome online
Before You Follow
★

This is my main/personal account. My tweets are more fandom-focused, very multifandom. At the moment it's just IDOLiSH7 and Genshin.
★

What to expect Keysmashing, Untagged Spoilers, Slang, Spam, Swearing, Slow Replies, etc.
★

Usually SFW, but can get NSFW at times (text-only, always tagged) with a hint of cursed content

(cursed content = shitposting)
★

I yume (self-ship) myself with Yamato Nikaido (IDOLiSH7). I try to keep it lowkey, but it's there and it exists. Sharing is kinda-ok, but if you're hardcore- tbh I'll probably not interact (lol)
★

I don't normally use tone indicators, but I will if needed. Otherwise, assume all tweets are /general
★

FUB free, selective followbacks. You don't have to be a mutual to interact with me! Please interact I want friends!! Softblock if you want to break the mutual. I don't mute, but I do block liberally.
★

I actively try to avoid heavy topics and drama for my own well-being and mental health. Do not ever involve me in either.
Do not follow if... / I will not follow if...
✦

You fit the general DFI criteria

(racist, anti-lgbtq+, aphobic, ableist, etc.)
✦
You do or condone targeted harassment.
I don't tolerate it regardless of the reason.
✦

You're into real-people-fiction.

In other words, you ship real people.
✦

You're a serious fiction-kin / use kin names.

It just makes me extremely uncomfortable.
✦

Preferably 17+ only, but it's not a big deal.
Follow at your own discretion. If you have any questions, feel free to send it to my CuriousCat.
Blacklist ✦ Tags are appreciated!
✦

insects, images and text (all of them)
✦

talk and images regarding real life wounds
✦

relatively creepy/gross/scary/horror stuff
I currently only tag the following; food, insects, fandom drama/discourse, and nsfw content. I will not tag; interests, ships, or characters.
If you're blocked, you either made me annoyed somehow or I don't vibe with your tweets/takes, maybe a combination of both. Don't ask me to unblock you, I did it for my own comfort please respect that.
Jump right in along with everything you're carrying immediately

▷ 63.2M 💬 17K ♥︎ 45M
I want to keep smiling forever

▷ 63.2M 💬 17K ♥︎ 45M
IDOLiSH7 (アイドリッシュセブン)
TRIGGER ♡ IDOLiSH7, Pythagoras Trio ┋ Myself/Yamato, GakuYama, BanYuki, NagiMina, etc.
yes ive been here too long (may 2016), yes i play the game, yes i may be insane
Genshin (原神)
Old Mondstadt ♡ Liyue, 4nemo Liker ┋ XiaoLumi, JeanEula, AyaLumi, DainAbyssTwin
xiaolumi truther. also, i only tweet about Genshin on my side account!
Mahoutsukai no Yakusoku (魔法使いの約束)
North ♡ East ┋ idrc about romo-ships in mhyk tbh
i actually like a lot of the charas in mhyk............
Utaites - Mafumafu, Amatsuki, After the Rain, etc.
Animanga - Kaguya-sama wa Kokurasetai, Seasonal anime, etc.
Seiyuus - Saito Soma, Ono Kensho, Hatano Wataru, etc.
Pokemon - Cyndaquil Line, Shaymin, Pikachu (Gen 2/4 and MD 2 Supremacy)
Hobbies/Likes - Graphic Design, Web Design (HTML/CSS), Reading, OCs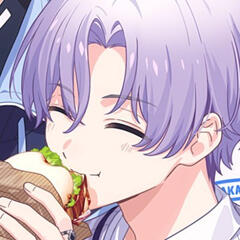 Code is the franchise / Bold & Underline is Top Fave / Ships in italics
Some things could be in multiple categories, this is just what I classify them as in my head.
Ships listed here aren't platonic, they're all romantic.

Important Note I'm less likely to speak about these series and characters compared to the ones on the main page, but they could appear and I could talk about them. Just don't expect frequent tweets about them, I've stopped paying active attention to a lot of these.

this is long af maybe i really shouldve moved this section to listo 🤔🤔
---
Games
IDOLiSH7 - 🦀💚 Yamato Nikaido 💚🦀, Yukito Orikasa, Gaku Yaotome, Minami Natsume, Nagi Rokuya ♡ TRIGGER, IDOLiSH7, Pythagoras Trio, I like everyone tbh ┋ Myself/Yamato, GakuYama, BanYuki, NagiMina, YamaSou, NagiMitsu, etc.

Genshin - Xiao, Kazuha, Venti, Lumine, Nameless Bard, Aether, Ayaka, Xingqiu, Chongyun, Diluc ♡ Old Mondstadt, Liyue, 4nemo liker ┋ XiaoLumi, XiaoVen, AyaLumi, JeanEula, DainAbyssTwin

Mahoutsukai no Yakusoku - Heathcliff, Figaro, Owen, White, Snow ♡ North, East ┋ idrc about romo-ships in mhyk tbh

Project Sekai - Ena Shinonome, Haruka Kiritani, Rui Kamishiro, Kohane Azusawa ♡ MORE MORE JUMP!, 25-ji, Night Code de., ┋ MinoHaru, RuiNene, MizuEna

A3! - Hisoka Mikage, Sakyo Furuichi, Azuma Yukishiro, Sakuya Sakuma, Misumi Ikaruga ♡ Autumn, Winter, Spring ┋ SakyoIzu, AzuTasu, TaiYuki

Stand My Heroes - Takaomi Hiyama ♡ Revel ┋ hhiyamasan,,,,, , , , ,

Tsukino Production - Mamoru Fujimura, Kouki Etou, Yoru Nagatsuki, Futaba Kiduku ♡ Growth

B-Project - Tomohisa Kitakado, Kazuna Masunaga, Momotaro Onzai, Kento Aizome ♡ Kitakore, MooNs, THRIVE

[email protected] - SideM (315 Pro) - Kyosuke Aoi, Yusuke Aoi, Kaoru Sakuraba, Michio Hazama ♡ W, Dramatic Stars

Tears of Themis - Artem Wing, Luke Pearce

Love Live - Umi Sonoda, You Watanabe, Riko Sakurauchi, Maki Nishikino ♡ µ

Ensemble Stars - Ritsu Sakuma, Izumi Sena, Hokuto Hidaka, Tsukasa Suoh ♡ Knights, Trickstar

BanG DreaM! - Tae Hanazono, Sayo Hikawa, Hina Hikawa, Yukina Minato ♡ Poppin' Party

(Dead Mobages) Star Revolution - Akira Yagasaki, Nozomi Tendo, Kaito Tenma ♡ Judgement, 4+U | Starry Pallets Kazuyuki Igarashi | Band Yarouze Kyo Takara ♡ OSIRIS | Yumeiro Cast Kaito Shindo, phantom rain full

Pokemon - Cyndaquil Line, Shaymin, Pikachu ♡ Red, Ethan, Misty, Volkner, Barry, N ┋ Gen 2/4+Mystery Dungeon 2 stan club

Digimon - Takeru Takaishi, Hikari Kamiya, Willis, Henry Wong ♡ Terriermon, Patamon

Granblue Fantasy - ☕ Sandalphon ☕, Katalina, Grimnir ┋ Sandalphon/Djeeta

Dragalia Lost - Harle, Delphi, Zardin, Zena, Elisanne, Eugene

Tales of - Aegis (Crestoria), Sorey (Zestiria), Luke (Abyss)

Animal Crossing | Kirby | Mother/Earthbound | 1bit heart | Your Turn to Die | Omori

Genres - Rhythm Games, Mobages, Joseimuke, Otome Games, JRPGs, RPG Maker Games
Animanga
Kuroko no Basuke - Kuroko Tetsuya, Midorima Shintaro, Akashi Seijurou, Kise Ryouta ♡ Kiseki no Sedai ┋ MidoKuro, KisekiKuro, KiKuro, AkaMido, AoKise, AoKaga, TakaKuro, any ship with Kuroko tbh

Free! - Haruka Nanase, Rin Matsuoka, Ikuya Kirishima, Nagisa Hazuki ♡ Style Five ┋ RinHaru, IkuHaru, SouMako, NagiRei

Bungou Stray Dogs - Dazai Osamu, Nakahara Chuuya, Akutagawa Ryuunosuke, Edogawa Ranpo ♡ Port Mafia ┋ Soukoku

Kaguya-sama wa Kokurasetai - Maki Shijo, Ai Hayasaka, Kaguya Shinomiya, Chika Fujiwara, I like everyone tbh

Nakanohito Genome [Jikkyouchuu] - Karin Sarayashiki, Akatsuki Iride, Makino Aikawa, Kaikoku Onigasaki

Noragami | Kamisama Kiss (KamiHaji) | Gekkan Shoujo Nozaki-kun | The Royal Tutor | Horimiya | ReLIFE | Yuukoku no Moriarty

Genres - Shoujo, GL, BL, Comedy, Slice of Life, Seasonal
Media
Starmyu - Nayuki Toru, Ageha Riku, Tatsumi Rui, Kuga Shu, Toraishi Izumi ♡ Team Hiragi ┋ glory holy story my love

HANA-Doll* (Anthos) - Kaoru Kisaragi, Haruta Kiyose, Lihito Toudo

Dolce (HoneyWorks) - Sara Toujou, Ao Ryuuguu, Kazuki Haiga ♡ Setsugekka, Dolce, I like everyone tbh ┋ AoSara, KazuFuuma, SaraUru

MILGRAM - Es, Haruka

Kagerou Project - Ayano Tateyama, Momo Kisaragi ┋ i loev ladies Anywyas

Hypnosis Microphone - Gentaro Yumeno, Ramuda Amemura, Doppo Kannonzaka, Nemu Aohitsugi ♡ Fling Posse, Matenrou ┋ projects my ramugen brainrot into ur brain

HoneyWorks | Royal Scandal | Cherry Mahou | Paradox Live

My OCs i Never speak about them on main, but they Exist and i Care for all of them. Please care about them with me i love all of them.
Other
Male Seiyuus - Saito Soma, Ono Kensho, Hatano Wataru, Toki Shunichi, Toshiki Masuda, Shimazaki Nobunaga, Yamashita Daiki, Shirai Yuusuke, KENN, Terashima Junta, Horie Shun, Tachibana Shinnosuke, Miyano Mamoru, Ono Daisuke, Kamiya Hiroshi, Aoi Shouta, Kakihara Tetsuya, etc.

Utaites - Mafumafu, Amatsuki, After the Rain, XYZ, UraShimaSakataSen, etc.

VTubers - Kanae, Petra Gurin, ChroNoiR, Aimu Sora

Vocaloids - Hatsune Miku, Kagamine Rin, Megurine Luka, Kagamine Len

Music Groups - 神様、僕は気づいてしまった, Trignal, SHE'S, BUMP OF CHICKEN, Official髭男dism, flumpool, RADWIMPS, Hey!Say!JUMP, SPYAIR, OLDCODEX, Big Time Rush

People - Akasaka Aka, Yayoi Sou, Kanzaki Iori, Kenshi Yonezu, Makoto Shinkai

Fictional Troupes Soulmate AUs, Reincarnation AUs, Enemies to Friends to Lovers, Amnesia, Hurt/Comfort, Major Character Death, Found Families, etc.

Cinamonroll (Sanrio) | Graphic Design | Web Design (HTML/CSS) | Astronomy | Reading | Japanese Culture
friends.
"as long as we're holding hands, our hearts will keep beating ーand we can negate each other's loneliness once again"
The place where you belong will always be the same lively place

▷ 63.2M 💬 17K ♥︎ 45M